Walk in NYC, map and tours descriptions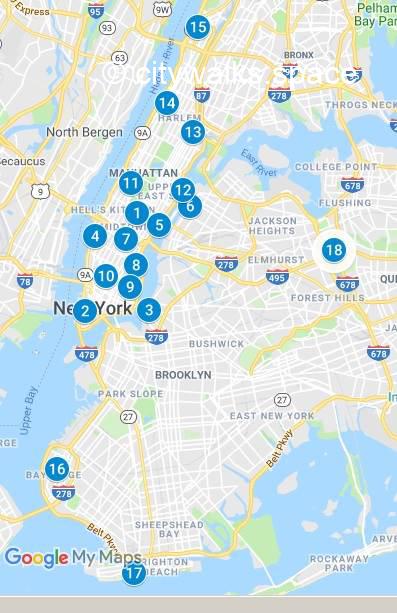 These 18 tours of Walk in NYC can be done in 2 to 4 hours without counting stops and visits. They can be truncated, modified and, for some of them, combined with others. They all are self-guided.
If you follow the links, you'll have their complete description with a map of the trail to follow; photos illustrating what you'll see; metro stations at the start and at the end of the walk; info about restrooms, places to eat, and places to sit.
Walk # 1: the essentials of Upper Midtown: the 1st of my three best walks to show NYC to my friends and family when they first come. It starts at Grand Central, then goes to 5th Ave, Central Park and Times Square.
Walk # 2: the essentials of Lower Manhattan: the 2nd of my three best walks to show NYC to firstcomers. It goes to One World then allows you to see the Statue of Liberty in the distance before bringing you to the Bull of Wall Street and the Fearless Girl.
Walk # 3: from Brooklyn to Chinatown and Little Italy: the 3rd of my three best walks to show NYC to firstcomers. It starts in Brooklyn, goes to the Promenade, takes the famous bridge and ends in Chinatown.
Walk # 4: the High Line-Hudson River Stroll: a 4 miles walk along a renovated part of the city with a lot of contemporary architecture, then next to the river.
Walk # 5: along the East River, parts 1 & 2: a 4 miles walk with a tramway ride in the middle and the quiet Roosevelt Island at the end.
Walk # 6: along the East River, part 3: a 3 miles walk from Roosevelt Island to Astoria with sculpture and mural on the way, quite off the beaten path.
Walk # 7: Midtown from Grand Central to Union Park: a 3 miles walk to see some landmarks of Midtown and some more secret places you'll be happy to discover.
Walk # 8: Midtown East Side : a walk off the beaten path with several variations possible, quite a few museums and a stroll along the East River .
Walk # 9, bohemian East Village: a self-guided 3 miles tour to visit East Village, NoHo East, Alphabet City and Lower East Side.
Walk # 10: discovering Greenwich Village: a 2 hours stroll to explore the neighborhood in depth and enjoy its little streets and restaurants.
Walk # 11, the multiple sides of the Upper West Side: 3 miles to discover some jewels of culture and gastronomy, walk along the Hudson River and explore a wealthy neighborhood.
Walk #12, from Central Park to the Upper East Side: a 2 hours walk first in nature then in one of the most opulent neighborhood of the city.
Walk # 13, from East Harlem to Central Harlem: a 2 hours walk to experience Latino then Black culture in a part of Harlem off the beaten path.
Walk # 14, from Hamilton Heights to Morningside Heights: a 3 miles walks on the west of Harlem, often in nature and also off the beaten path.
Walk # 15, in Hudson Heights and Washington Heights: a 4 miles tour with interesting views in the distance and discoveries situated in the north tip of Manhattan.
Walk # 16: the quiet Bay Ridge: less than 2 hours of walk and a 40 minutes ferry ride to be far from Manhattan and have a chance to eat more for less.
Walk # 17: Coney island, Brighton Beach & Sheepshead Bay: a 2 hours walk to explore the mythic amusement park and "the little Odessa", between other things.
Walk # 18: the best of Flushing and Corona: 3 hours or two times 2 hours to visit, between other things, the New Chinatown and what's left of the 1964-65 World Fair.
To know more about certain places in or out New York City, you can also go and visit the City Walks blog.
---
Walk in NYC, the different neighborhoods to visit
---
Walk in NYC, the highlights of the visits
5th Avenue aquarium bridge Broadway cable car ferry gallery garden island Koreantown LGBT Little Odessa murals museum park place of worship river sculpture Seaport District seaside The unavoidable Unisphere United Nations university zoo