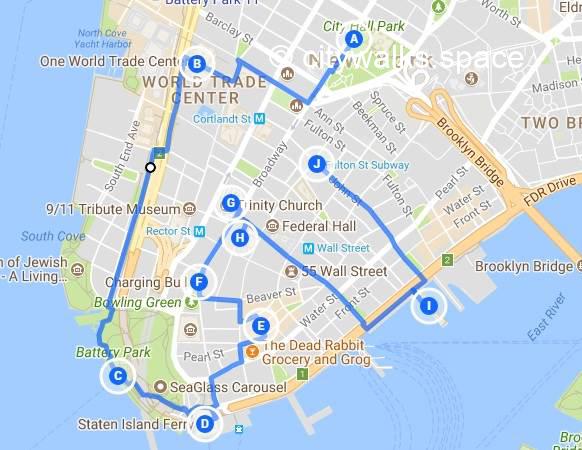 This walk is the second of my 3 favorites to introduce New York to newcomers. It's a 4 miles self-guided tour that covers the main attractions of Lower Manhattan.
Count 3 to 4 hours of walking while strolling and taking pictures, at least a whole day if you do all the visits and take the ferries to Staten Island, Ellis Island and Liberty Island.
Highlights: New York City Hall, Woolworth Building, St Paul's Chapel, One World Building, 9/11 Memorial & Museum, Battery Park, Staten Island Ferry Terminal, National Indian Museum of America, the bull and the fearless girl of Wall St, Trinity Church, the New York Stock Exchange and South Street Seaport.
Metro: City Hall, line R (start) and Fulton St., lines A, C, J, 2, 3, 4, 5 (end).
Bus: use an app like Citymapper to find the best options with bus #, waiting time, list of stops, and where you are in the city once you've boarded. Your Metrocard or OMNY account will work and will be valid for transfers to the Metro and other buses. Express buses are more expensive, but you can buy your ticket at the stop. The drivers are generally very helpful!
Good to know: you'll find toilets in all public or administrative buildings, in the ferry terminal, on the ferry, and at the Seaport District. These places have also benches, as well as the parks you'll encounter on your way and the Seaport District pontoon. There are plenty of options to eat, especially on Pearl St.
---
A: Take the metro to City Hall to exit in a small park in front of New York City Hall.
You are in the middle of majestic 19th / early 20th century building, most of them administrative ones, yet in nature with the sound of water coming from a fountain. If you are missing maps or plans, there's a tourist information kiosk in the park.
City Hall is free to visit and impressive, but inquire before to know the exact hours. Otherwise take Broadway to the south, and pass the beautiful neo-gothic Woolworth building. For 17 years, it has been the tallest building in the world and you can visit it for a fee.
Next, take Veisey St on your right, just before St Paul Church. Go inside to know more about its role after 9/11. You'll learn that it was the tallest building in New York in the 18th century.
B: Once on West Broadway, turn left to reach the 9/11 memorial with its waterfalls and the museum where you'll see what happened before, during and after 9/11. It will take you about two hours to visit it, and the experience is poignant. Take your ticket in advance if you want to avoid queuing too long.
The same goes for the observatory of One World Center, an experience that is also unforgettable both for the climb in the elevator and for the view you have from above (count one more hour).
C: When you are ready to go further, take the pedestrian lane along West St to go south. You'll walk along a group of recently built buildings, most of them apartments, but don't forget to look back to get an view of One World Center from a distance.
Once at the end of Lower Manhattan, you are in Battery Park where you can take a ferry to visit the Statue of Liberty and the Immigration Museum at Ellis Island. Count also two hours to go there and be patient, the line is sometimes long if you haven't reserved your ticket.
Once there, you'll perhaps find, on the registers of all the immigrants, the name of some of your ancestors.
D: If you'd rather skip the visit , or after, stay along the sea to see the statue from afar; walk on the small promenade where many movies have been shot; look at the city behind you and at the buildings among the trees; then head to the Staten Island Ferry Terminal.
Every half hour, free ferries go to Staten Island and they will take you near the Statue of Liberty, with splendid views of Lower Manhattan.
With a little luck and some running in the ferry terminal, you'll even be able to board another ferry for the return as soon as you land on Staten Island. Otherwise you'll have to wait another 30 minutes.
Count about two hours for the whole experience. It will give you the opportunity to rest and take a break!
E: You may now be hungry and looking for cozy restaurants. You'll find some in and around Pearl St, with different prices and different cuisines.
In any case, go and have a look there, the small streets and relatively small houses make quite a contrast with the other side of Lower Manhattan.
F: Next, find Beaver St and go toward Broadway. Once at Bowling Green Park, the American Indians Museum, free and architecturally impressive, will be on your left.
On your right, you'll see the famous bronze statue of the bull of Wall St, probably assaulted by tourists. The fearless girl that for a time was facing it is now in front of the New York Stock Exchange (see F).
G: Continue on Broadway to find the Trinity Church on your left, yet another stark contrast to the surrounding buildings. You can visit it, especially for its stained glasses, or when it hosts a free concert. Its cemetery speaks of another time with its old stone steles.
See if you can find the tomb of Hamilton, one of the founding fathers of the USA.
F: Take Wall St on your right, opposite the church, and turn left on Broad St to pass the New York Stock Exchange.
You cannot visit any more since 9/11, but you can, however, enter Federal Hall not far from it, the former US Congress where George Washington was sworn in as president. It is an imposing building that is also a National Park, and it will allow you to take another break and learn a bit about US history.
I: Next, take Wall St East to Water St, turn left, then turn right on Front St to Seaport District.
It was once an important merchant harbor with warehouses and a fish market. It has be renovated with shops and restaurants that you can ignore if you wish, but go to the end of the pontoon to have a beautiful view of the Brooklyn Bridge and Lower Manhattan, East River side. You'll also go along old sailing ships.
J: All you have to do now is take John St to Broadway until you find the Fulton subway station, at the corner of Nassau St. That will be the end of this tour of Lower Manhattan.
To see other photos of New York if you like the ones on this page, go to citywalks.space. To find other walks, see 18 NYC walks on a map.
However, before you go, don't forget your guide and see how to thank him at the bottom of the page. Then enjoy the rest of your day!