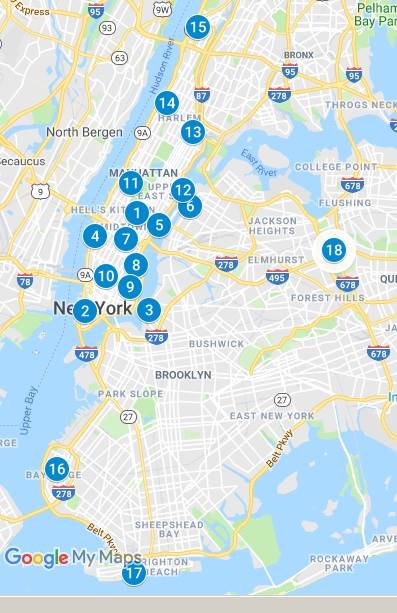 These walks can be done in 2 to 4 hours without counting stops and visits. They can be truncated, modified and, for some of them, combined with others.
If you follow the links, you'll have: their complete description with a map of the trail to follow; photos illustrating what you'll see; metro stations at the start and end the walk; info about restrooms, places to eat, and places to sit.
Walk in NYC # 1: the essentials of Upper Midtown: the 1st of my three best walks to show NYC to my friends and family when they first come.
Walk in NYC # 16: the quiet Bay Ridge: less than 2 hours of walk and a 40 minutes ferry ride to be far from Manhattan.
Walk in NYC # 17: Coney island, Brighton Beach & Sheepshead Bay: a 2 hours walk to explore the mythic amusement park and "the little Odessa", between other things.
Walk in NYC # 18: the best of Flushing and Corona: 3 hours or two times 2 hours to visit, between other things, the New Chinatown and what's left of the 1964-65 World Fair.
---
On the old site (and coming here slowly).
2: Introduction to NYC, trek 2: City Hall, One World, Battery Park, Financial District.
3: Introduction to NYC trek 3: Brooklyn Promenade and Bridge, Chinatown, Little Italy.
4: The High Line Hudson River trek: Hudson Yards, Chelsea, urban landscaping. World Trade metro station.
5: The East River trek, part 1 & 2: United Nations, cable car, Roosevelt Island.
6: The East River trek, part 3: Roosevelt Island , street art, Astoria.
7: The Midtown trek 1: Empire State Building, Chelsea Hotel, Flatiron, Madison Square.
8: The Midtown trek 2: Gramercy Park, Stuyvesant Town, East River, a tour off the beaten path.
9: The East Village trek: parks, museums, street life.
10: The Greenwich Village trek: parks, charming streets, galleries.
11: The Upper West Side trek: Lincoln Center, Hudson River, Museum of Natural History.
12: The Central Park Upper East Side trek: Dakota Building, Bethesda Terrace, the MET, the Guggenheim, East River.
13: The East & Central Harlem trek: street art, murals, jazz
14: The West Harlem trek: memorial Hamilton and Grant, Columbia University, cathedral St John, museums
15: The Washington Heights & Inwood trek: museums, bridges, parks, historic mansions and terrace, cloisters
---