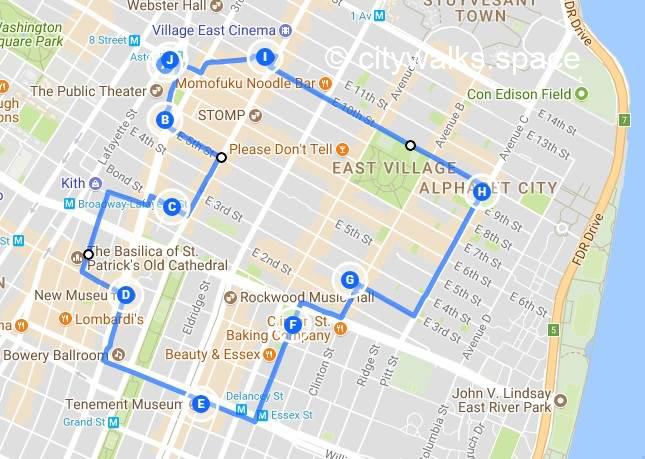 Walk in NYC # 9,bohemian East Village, is a self-guided 3 miles tour to visit East Village, NoHo East, Alphabet City and Lower East Side.
It will take you about 2 hours of strolling and taking pictures, much more if you visit all the museums.
On the menu, modern and ancient architecture, 5 museums, unusual shops, the statue of Lenin, lively parks and gardens.
Highlights: Astor and Tompkins Parks, Cooper Union School, Ukrainian Museum, Marble Cemetery, St. Patrick's Church, New Museum, International Center for Photography, Tenement Museum, Statue of Lenin, Museum of Reclaimed Urban Spaces.
Metro: Astor Plaza, lines 4, 5 and 6 (departure and arrival).
Bus: use an app like Citymapper to find the best options with bus #, waiting time, list of stops, and where you are in the city once you've boarded. Your Metrocard or OMNY account will work and will be valid for transfers to the Metro and other buses. Express buses are more expensive but you can buy your ticket at the stop. The drivers are generally very helpful!
Good to know: there are many restaurants on this trek; to sit, it will often be necessary to enter churches or wait for Tompkins Park; to find restrooms, it will be difficult outside the museums.
---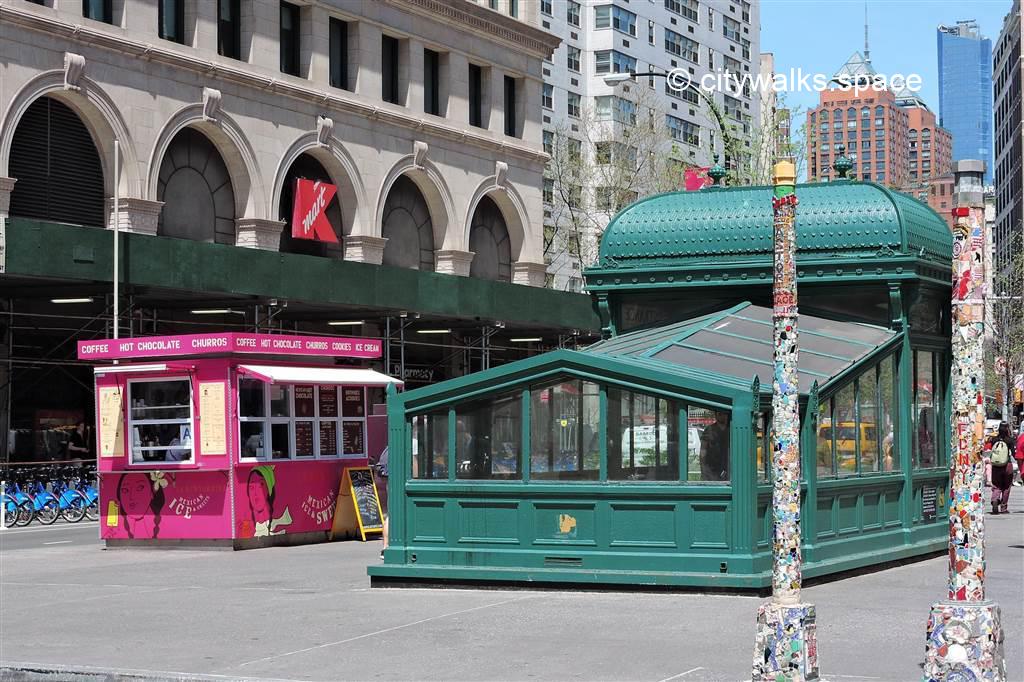 A & B: Take the metro to Astor Plaza station; once outside and before going further, admire the sculptures that line the square and the classical building of the Cooper Union, a private art school.
Then take Cooper Sq.
You will soon see a building with interesting contemporary architecture; it's also part of the Cooper Union school. Have a look at its entrance hall with its big winding staircase, it will give you an idea of ​​the place. The school has also exhibition spaces open to the public. Ask the guard about them.
C: Next, find E 6th St. on your left; you'll soon see the Ukrainian Museum, a small museum with arts and crafts shows.
Once on 2nd Ave, take it on the right.
You'll find many restaurants with terraces there, but you are looking for a driveway on your right just after E 3rd St: if it is open, it will take you to the Marble Cemetery, a quiet and secluded place.
However, you'll need to read the explanatory panels to be able to imagine what it looked like as all the graves have disappeared.
On E 2nd St. that you'll take on your right, you'll find a small and incongruous garden abutting the Marble Cemetery. This is one of the many East Village communal gardens.
After that, take Bowery on your left; then E Houston St. on your right; and finally Mott St. on your left.
You are looking for the entrance of St. Patrick's Basilica, in the NoHo district. It has the particularity to house the only catacombs of New York. You'll have to book a tour in advance to visit them, though. In the meantime, go inside to look at the beautiful stained glass windows and some evocative wooden sculptures.
Once you have completed your visit, continue on Mott St.; when crossing Prince St., turn left and walk back to Bowery.
D: The New Museum will be in front of you; you'll find the International Center of Photography on your left. Both are well worth a visit if you have the time, the first for its often provocative contemporary art exhibitions and its rooftop terrace overlooking the city, the second for its gorgeous photos.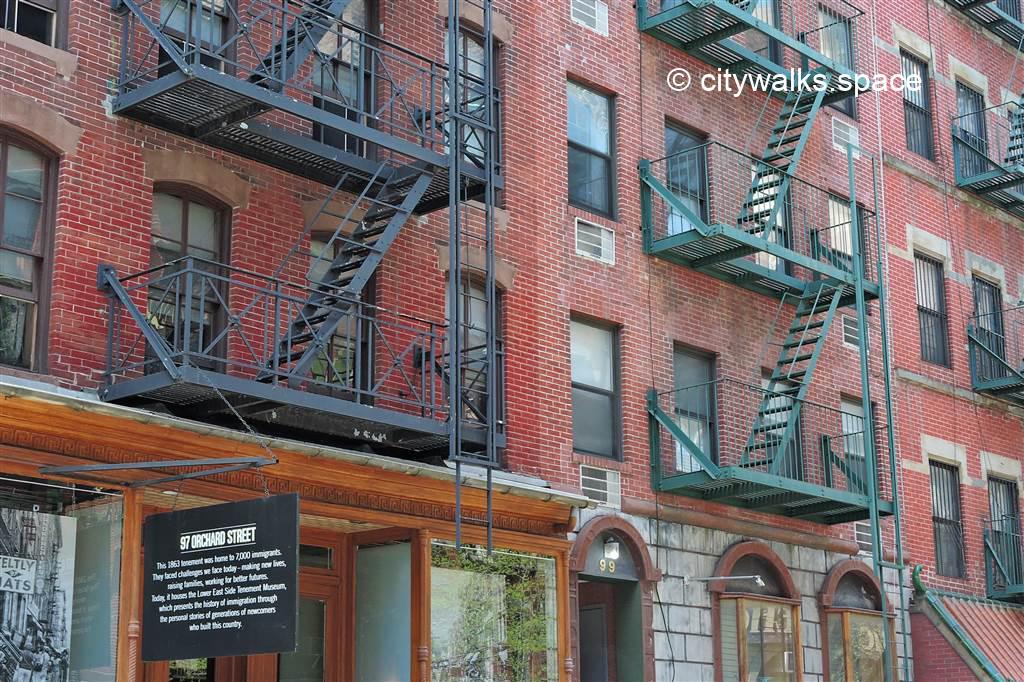 E: The avenue at this location offers you a whole series of shops specializing in restaurant equipment; they tell in their own way the history of the kitchens where your favorite meals are prepared. You'll find some more on Delancey St.
Take it to go to another museum, the Tenement Museum. It will tell you the story of the early 20th century immigrants, presented in several typical houses of the time.
F: Continue on Delancey towards the Williamsburg Bridge; find Norfolk St. on your left.
After two small communal gardens on Stanton St., raise your head and look to the right: Lenin is on a roof and dominates the city! The statue, commissioned by the communist state just before its fall, was never displayed in the USSR. It was bought by a New Yorker in 1994 and erected on the building with the clock in front of you. Now it's here.
G: At the end of the street, take E Houston St. on the right; then Avenue B on the left; and; then E 3rd St. on the left again.
You'll see another communal garden, the Miracle Garden. If it's closed, go a little bit further to reach the Church of the Holy Redeemer; you can go and sit there and admire its architecture. It was the most important church of what was in the 19th century the "Little Germany" district.
H: Then retrace your steps until Avenue C; take it on your left.
The Museum of Reclaimed Urban Spaces will be after E 9th St.; along the way, you'll see other communal gardens, each with its own particular style. The museum will then show you how these gardens have been developed. It also tells the story of the squatters and activists of the 1970s who made the district what it is still today. If you wish, find beforehand when to take a tour lead by the old actors of that time.
Next, head to Tompkins Park by way of E 9th or E 10th St.
People take sun on the lawns, listen to jazz bands, read, chat and give you a glimpse of the neighborhood's special atmosphere.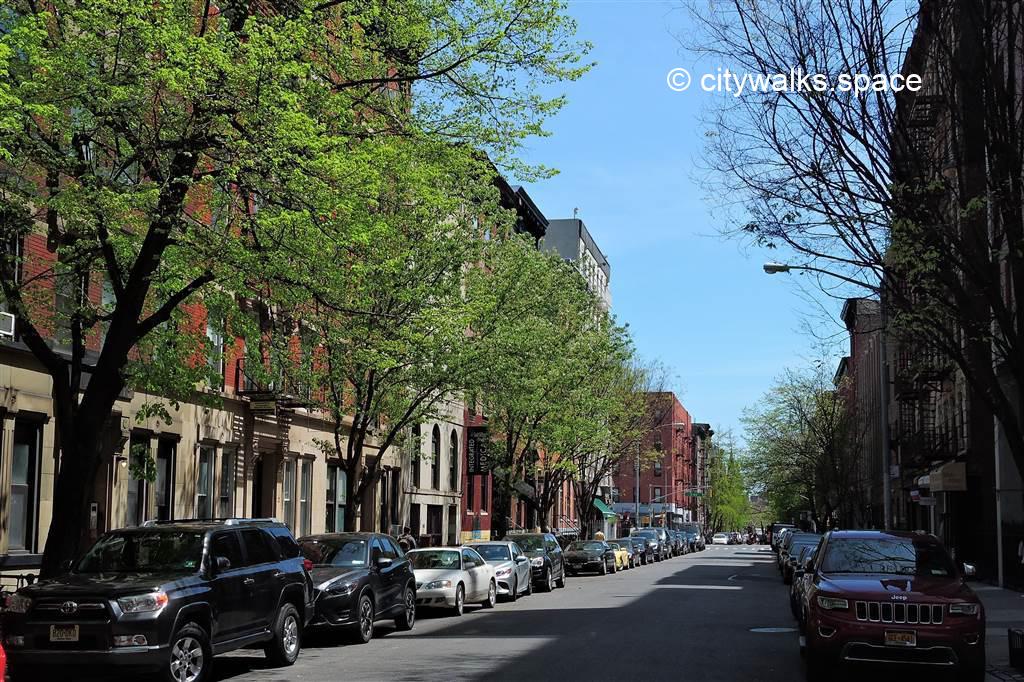 I & J: Follow E 10th St. to the west.
You'll pass the unusual Turkish and Russian baths. Comments about the place are varied so it's up to you to see if you want to stop for massages or a sauna; the sign is pretty, though.
Once at St Mark's Church, one of the two oldest churches in Manhattan, you can have a break on the pews; then take Stuyvesant St. on your left; you'll reach Astor Plaza, your starting point, by way of the 3rd Av then E 9th St.
To explore more, Walk in NYC # 10, discovering Greenwich Village, will not be far from Astor Plaza. You can start it at Grace Church (point J) then walk to Union Square, its starting point; it will allow you to finish at Jefferson Market Library, the penultimate step of this trek (point I), and you will find there a metro station.
There was another side of East Village up until 1990. Discover it when reading The East Village mafia!
Before you go, don't forget your guide and see how to thank him at the bottom of the page. Then enjoy the rest of your day!