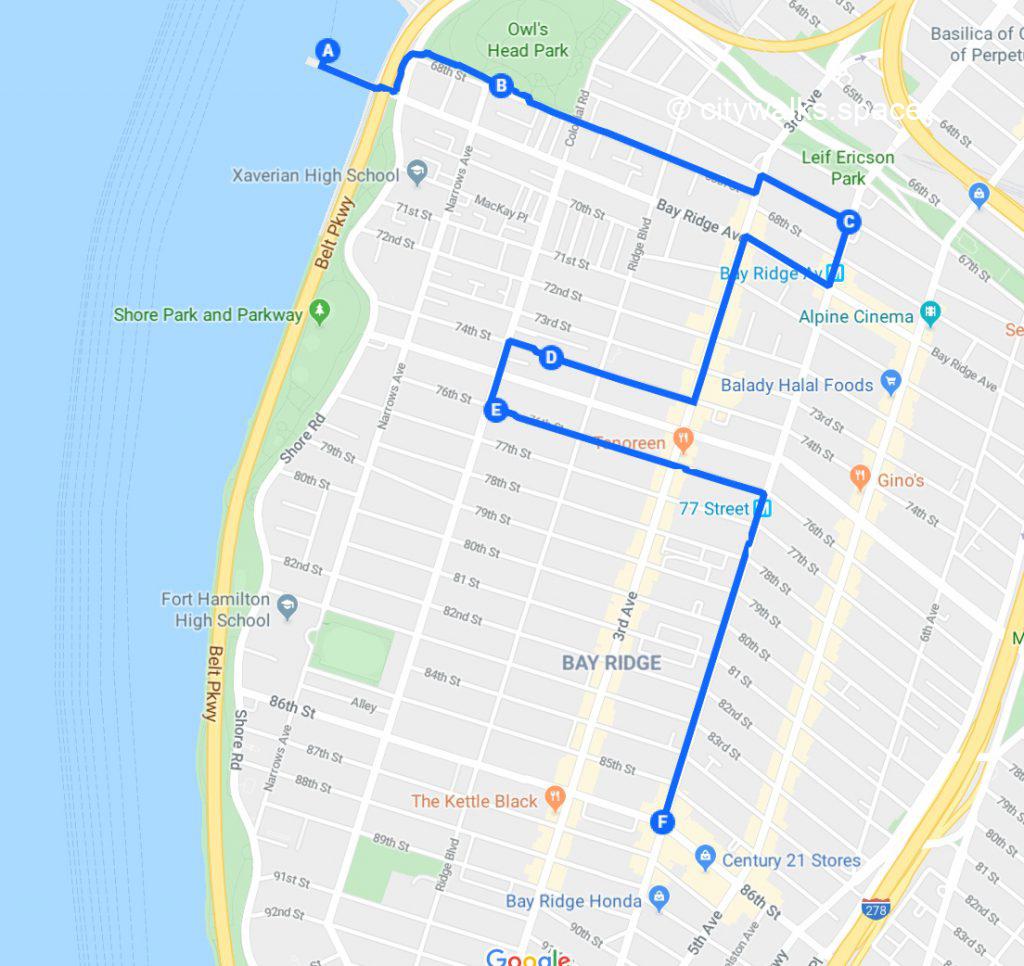 Walk to NYC #16, the quiet Bay Ridge, is a 3 miles self-guided tour in southwest Brooklyn, along the Upper Bay coast.
It is also an opportunity to take a ferry for 40 minutes. You'll have unique views of Lower Manhattan, the Brooklyn Bridge, the Statue of Liberty, Governors Island and the Red Hook neighborhood.
Once there, you'll find charming residential streets and restaurants much cheaper than in Manhattan. You could even plan your walk to eat locally and return by ferry for views of the city at sunset or at night.
Highlights: the Bay Ridge ferry, Governor's Island, Owl's Head Park, Senator St., Montmartre-style stairs, the Verrazano-Narrows Bridge, the Narrows Botanical Garden, Shore Road.
Metro: Wall St., lines 2 or 3 (departure); 77 Street or 86 Street, line R (return from Bay Ridge by subway) or Wall St. (return from Bay Ridge by ferry).
Bus: use an app like Citymapper to find the best options with bus #, waiting time, list of stops, and where you are in the city once you've boarded. Your Metrocard or OMNY account will work and will be valid for transfers to the Metro and other buses, up to two hours. Express buses are more expensive, but you can buy your ticket at the stop. The drivers are generally very helpful!
Good to know: you'll find restrooms and places to sit at the ferry terminal and at Owl's Head Park; there are benches along Shore Road and in the Narrows Botanical Garden. For dining, 3rd and 4th Ave will be your best choices.
---
Your walk begins at Pier 11, the ferry terminal for Bay Ridge. The nearest metro station is Wall Street, about 10 minutes by foot.
The ferry ride costs no more than a metro ticket; however, you'll need to buy your ticket on site as the MetroCard is not accepted. This will allow you to ask where and when the next ferry leaves and to watch the river traffic on the East River. In any case, your wait should not exceed 30 minutes.
Once you're gone, the ferry runs along Brooklyn Bridge Park and Brooklyn Height for a first stop a little further east.
From there, you start to have beautiful views of lower Manhattan and then, gradually, of the Jersey Shore.
The ferry then passes between Governor's Island and Red Hook, its second stop. The Statue of Liberty stands behind the trees. At Red Hook, it's an opportunity to see some of the NYC docks and some of the cargo ships that supply the city.
You then take speed to head to Brooklyn Army Terminal where there is probably not much to do if you are not part of the army.
A: Finally, the 4th stop is also the last. You disembark on a pontoon where locals have settled with their fishing rod, and you suddenly feel very far from Manhattan.
B: From there, go under the Belt Parkway Bridge and turn left towards one of Bay Bridge's green jewels, Owl's Head Park. Enter it but stay on its right along 68th Street. Then take 68th St once out of the park.
There are beautiful private streets to the right of this street, Madeline Court being a good example. This gives you a second idea of ​​the neighborhood, residential and quiet.
C: When you arrive at 3rd Ave, one of the two shopping streets, turn left and then take Senator St. on the right.
On either side of the street, superb Brownstones in a Renaissance Revival style. They date from the beginning of the 20th century when Bay Ridge began to attract the middle class. They all have lion heads on each side of the staircase leading to their front door and if they are not yet listed, it will probably come one day.
Once at 4th Ave, turn right. You are now in the second commercial artery of Bay Ridge and several options are available to you: the map suggests you take Bay Ridge Av. a little further on the right to join 3rd Av. then take it on the left, but you can also let yourself be guided by what attracts you.
If you follow the path indicated, there is an unique cafe at the corner of 3rd Ave and Bay Ridge Av. Otherwise, in one avenue or the other, you will find various restaurants much cheaper than in Manhattan, and places where you can have a drink. You will also see stores of all kinds run by residents of all nationalities.
D: In either case, when you arrive at 74th St., turn right toward Colonial Road. On the way, you will have to take a staircase which gives the place an air of Montmartre. The streets are again quiet and residential, each house with its particular character.
E: At Colonial Rd., you have two choices again. If you want to go back to Manhattan by subway, that's what the map tells you: turn left to 76th St.; then take the second staircase in the neighborhood. It's prettier than the one on 74th St. so if you take only one, take this one; then continue until 4th Ave where you will find a metro station at 77th St.; or, if you still want to stroll on 4th Ave with views of the Verrazano-Narrows Bridge in the distance, continue to another subway station at 86th St.
The other option is to return to Manhattan by ferry. For this, continue straight toward Shore Road and its beautiful houses by the sea; take Shore Road to the right until Narrows Botanical Garden, a charming little green space; then join the ferry terminal by turning left at the end of the botanical garden.
It is probably on this part of the promenade that you will best realize that Bay Ridge and Shore Road in particular must have been a sought after place; today, however, the Belt Parkway brings with it the noise of cars and partly destroys the attractiveness of the coast. Yet the place remains interesting by the contrast it offers with Manhattan that you can still see in the distance.
NB: if you like architecture and don't mind to walk more, "The Gingerbread House" at 8220 Narrows Ave is unique: coming out of a fairy tale or the story of the Lord of the Rings, it was designed in 1916 by the architect JS Kennedy and built in 1917 for a shipowner. It is perfectly maintained in the middle of a grand park.
From there you can reach the 86th St. metro or the ferry along Shore Road Promenade (there is an access to Old Glory lookout) but that adds about 2 miles to your walk.
Either way, you've reached the end of this walk in the quiet Bay Ridge.
To see other photos of New York if you like the ones on this page, go to citywalks.space. To find other walks, see 18 NYC walks on a map.
Before you leave however, don't forget your guide et see how to thank him at the bottom of the page. Then enjoy the rest of your day!