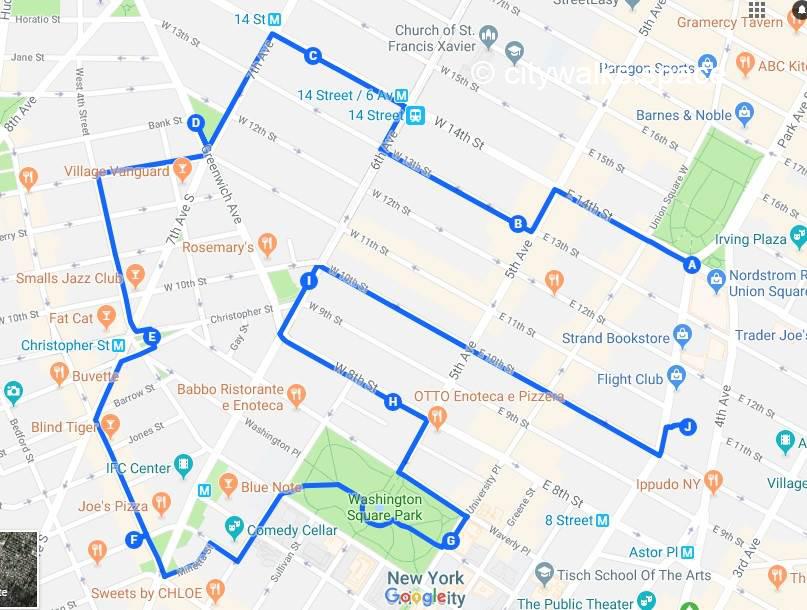 Walk in NYC # 10, discovering Greenwich Village, is a 3 miles self-guided tour that will take you about 2 hours of walking and taking photos, more if you visit the different galleries along the way.
On the menu, quiet streets, small restaurants, historic places, beautiful churches and lively parks.
Metro: Union Square, lines L, N, Q, R, W, 4, 5 and 6 (start and end).
Bus: use an app like Citymapper to find the best options with bus #, waiting time, list of stops, and where you are in the city once you've boarded. Your Metrocard or OMNY account will work and will be valid for transfers to the Metro and other buses. Express buses are more expensive but you can buy your ticket at the stop. The drivers are generally very helpful!
Highlights: Parsons and New York Studio Design Schools, Pratt Institute, St. Vincent, Christopher, Father Demo and Washington Parks, Stonewall Monument, the Church of Our Lady of Pompei and the Grace church, the Grey Gallery.
Good to know: lots of places to eat and to sit along this tour, especially once you're at point D. There are restrooms in Union Square and Washington Square; they're more elusive elsewhere!
---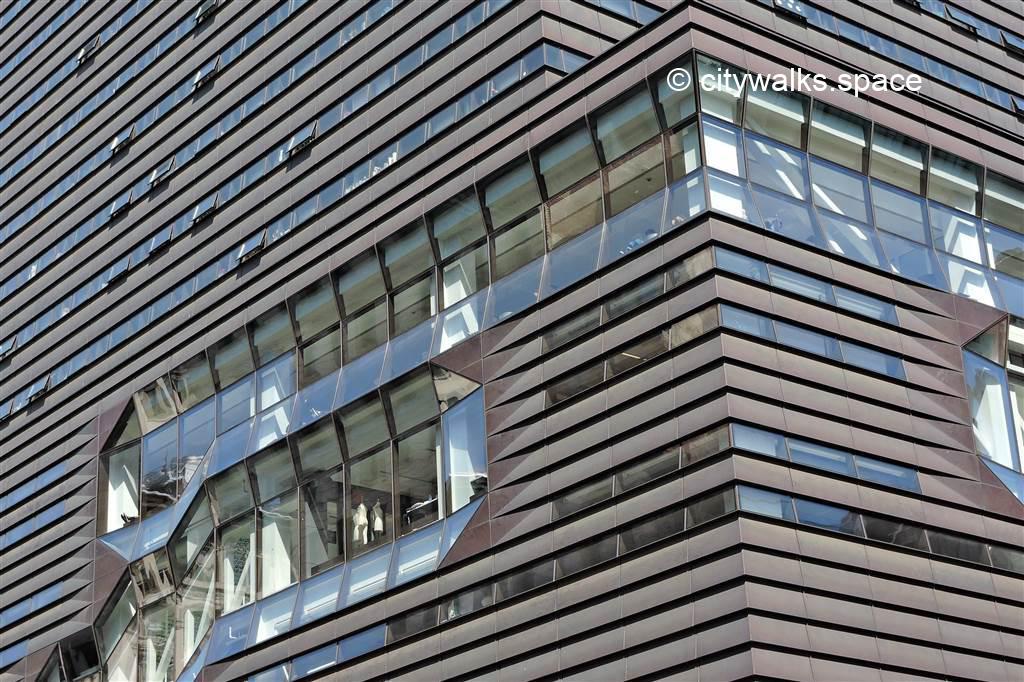 A: Take the metro to Union Square station; once in the square, find E 14th St. and go towards the Hudson River.
B: At 5th Ave, turn left.
You'll soon see the beautiful contemporary buildings of Parsons School of Design. Its gallery is accessible along the 5th Ave to the right after E13th St. and it could well be your first stop.
C: Next, at 6th Ave, turn right and then left on W 14th St.
The streets here are not of any particular interest but you are looking for the Pratt Institute and its gallery. It will be on your left just before 7th Ave, on the 2nd floor and it's also worth a stop.
D: After your visit, head towards 7th Ave and take it on the left.
You'll reach the small St Vincent Park, one of the hearts of Greenwich Village.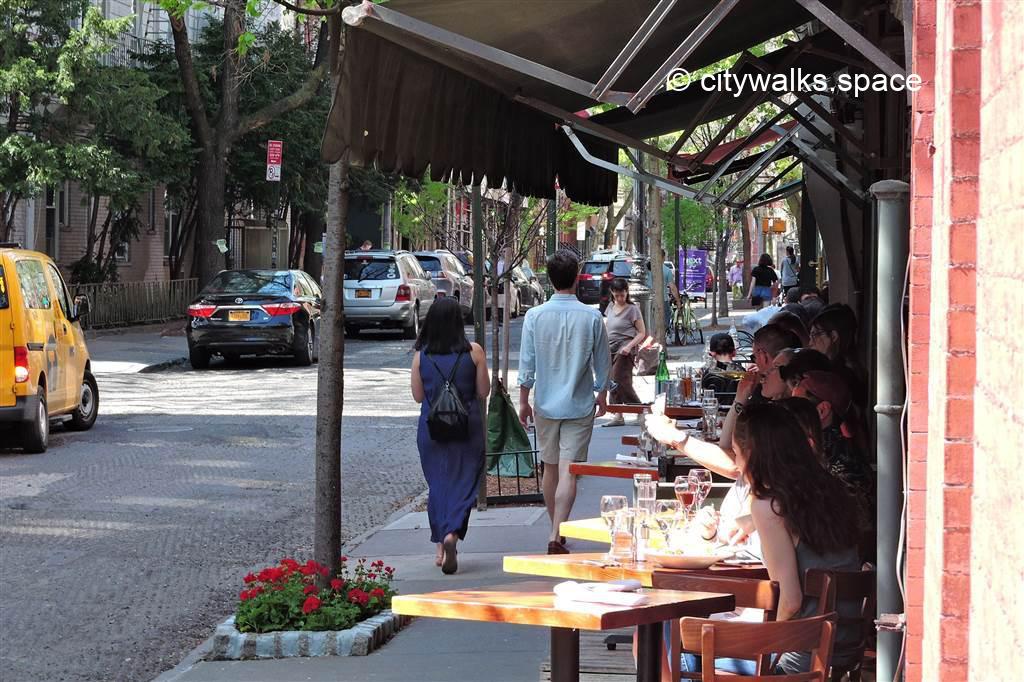 From there, take the W 11th St and turn left on W 14th St.
The idea is to get lost in these quiet little tree-lined streets and red brick houses; then you'll find here and there the restaurants, cafes and shops that make the charm of the place.
E: If you follow W 4th St., you'll reach Christopher Park.
It was the center of the gay protests of the 1970s when an adjacent bar, the Stonewall, was invaded by the police. The place is now one of the smallest National Parks in the United States. Its 4 statues, the Stonewall Monument, commemorate the struggles of the LGBT community.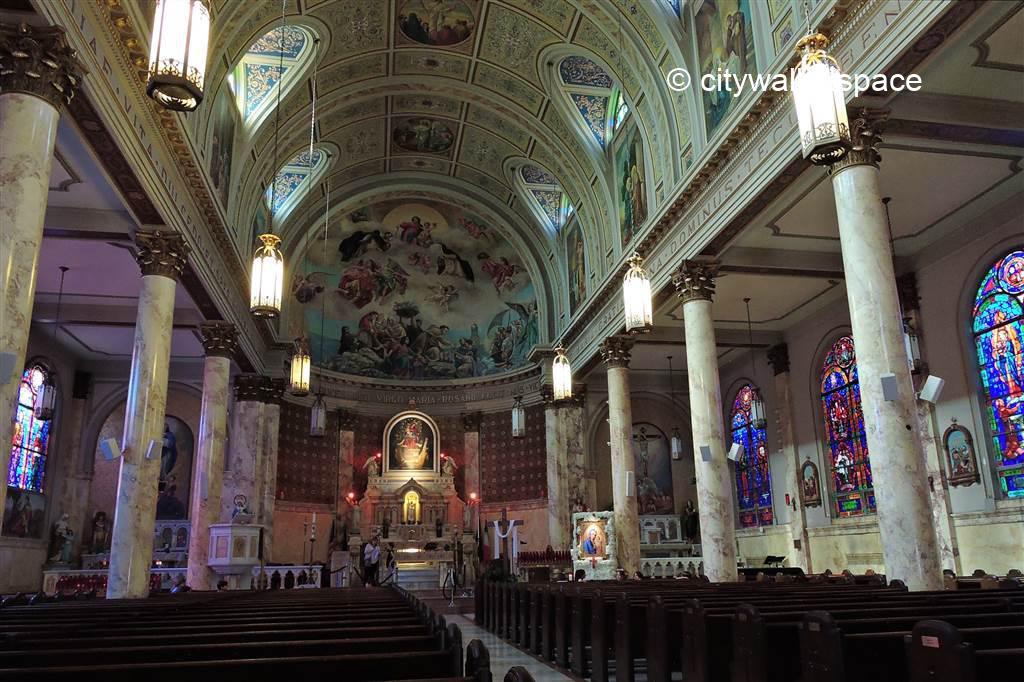 F: After that, follow 7th Av until you reach Bleecker St. and take a left. At Carmine St., turn right to enter the large church of Our Lady of Pompei with its amazing calm and Italian style decorations.
Then walk past Father Demo's park to turn left onto Minetta St., a nice little street that joins Minetta Lane. At Macdougal St. , take a right and Washington Square will come after a row of restaurants.
A lot of entertainment on Washington Square, for all ages and all tastes; this will be the perfect place to take a break and watch the crowd.
G: When you are ready, cross this park toward the East. You want to find the Grey Gallery of the University of New York and its free exhibitions on two floors.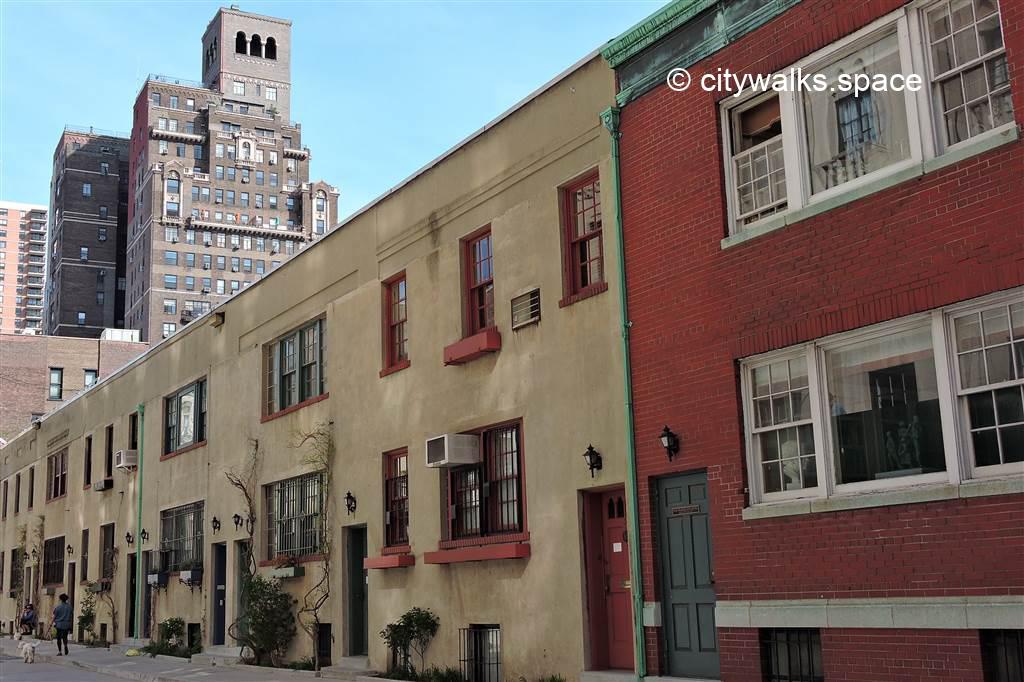 Once outside again, take Washington Square North toward 5th Ave.
You'll follow "The Row", a beautiful row of Victorian houses. During the 20th century, they were home to many artists at a time when the place was no longer considered popular.
Turn right on 5th Ave and a bit further on right, you'll see Washington Mews, the back of "The Rows" and its former stables.
It is now a private street and a beautiful row of low houses that comes as a surprise in this area. It's home to some professors of New York University.
H: At W 8th St., turn left to reach the New York Studio School of Design on your left. It has exhibitions open to the public, so you can enter the building, a charming old one.
Then keep going on W 8th St. and turn right on 6th Ave.
I: You won't miss, on your left, an incongruous Victorian-Gothic building with turrets and red bricks. This is the Jefferson Market, now a public library. The interior, worth a look, looks sometimes like a Middle-Ages castle!
From there, turn right onto W 10th St., which will become E 10th St. once you pass 5th Ave.
J: Your goal is Grace Church. It will be in front of you when you reach Broadway.
A Gothic style structure, it's imposing and calm, and it's how you'll nearly end this tour. You'll only have to keep going North on Broadway to find Union Square and your starting point.
From here, you can take the tail end of Walk in NYC # 7, from Grand Central to Union Square, or Walk in NYC # 8, Midtown East Side.
Leaving Grace Church, you can also take Broadway to the South until Astor Plazza, the starting point of Walk in NYC # 9, bohemian East Village.
Finally, Greenwich Village has generated a lot of literature along the years, so here is a list of some of the best books about the topic.
Before you go, don't forget your guide and see how to thank him at the bottom of the page. Then enjoy the rest of your day!